3B NEWS & PRODUCT SPOTLIGHT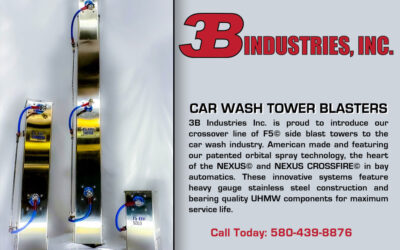 Tower Blaster: 3b Industries Inc. is proud to introduce our crossover line of F5© side blast towers to the car wash industry. American-made and...
read more
Car Wash Systems
Our company was founded by one of the pioneers of the car wash industry in 1960, John Brown. For
years we have helped many individuals and families become their own business owner. From our in
bay automatic, the Nexus Crossfire, to our complete self service system, the Omni II, our equipment is
designed for ease of use and absolute control of the wash cycles letting you customize the wash to your liking. Let us use our expertise in the car washing field to help you enter this wonderful industry.
Features:
Wash both sides of the vehicle simultaneously shortening the wash cycle.

Uses the patented f5 oscillating head.

Powerful operating system allows for complete control over cycles and functions with a simple touch screen interface.

Simplified design allows for easy maintenance.

No moving arms or wands, eliminating crashes and vehicle damage.

Stainless steel design, beautiful and durable.

Stainless steel piping eliminates downtime from hose bust repairs.
Nexus Line of Car Wash Equipment
With over 100 years of combined experience, the 3B family has the proven capability to launch new owners into the car wash industry while also assisting veterans of the business with the latest technologies and improvements. Their newest invention, the Nexus F5 is already setting higher standards than ever thought possible, placing their customers at the cutting edge of car wash services.
The company is comprised of in-house and field technicians, experts and engineers, who work hard to ensure complete satisfaction and superior customer service. From demographic analysis and assessment and site selection, to the supply of their own proven manufactured chemicals, 3B Industries offers everything needed for complete car wash success.
Nexus Crossfire Automatic Car Wash
 3B's Nexus Crossfire Automatic Car Wash has revolutionized the automatic car wash industry. The unique design allows for both sides of the vehicle to be washed simultaneously, allowing for faster wash times with superior cleaning. Having no arm or wand on the machine allows for a vehicle of any length to use the machine without worry of the machine crashing into the vehicle. This also eliminates costly repairs often associated with accidents involving a traditional touch less automatic car wash. Using the patented f5 oscillating head, the cleaning ability is vastly increased compared to other delivery systems (learn more here). Designed by car wash owners for car wash owners. We have "simplified" the design, eliminating many problem areas found in other automatic car washes all while designing one of the most powerful cleaning solutions on the market. Maintenance is easy especially when coupled with the powerful Nexus OS (learn more here).
The stainless steel design is both appealing and durable.  Easy to clean and maintain.  Designed and manufactured in house by 3B's manufacturing division using state of the art drafting software and fabrication equipment.  Laser cut, ensuring exact dimensions and a smooth finish.
 Would you like your own logo or car wash name cut into the frame?  We can do this for you.  Need help designing a logo?  We can help you with that as well.  You can also customize the color of the light package, making the machine truly match your branding.
High quality electronic components both inside and outside of the wash bay keep your uptime high and operating costs low.  A variable frequency drive slims down your operating costs while also protecting your equipment.  Water sealed cabinets and boxes protect electronic components from the elements.
FABRICATION & MANUFACTURING DIVISION
Capable of handling small jobs to production runs. We can cut, form, weld and finish: tanks, stands,  frames, walkways, enclosures, valve headers, flow control, pump stands, finished assemblies, ballistic  doors, ballistic partitions and a variety of other projects. With over 60 years of manufacturing  experience you can rest assured your needs will be taken care of. Please take a look at our capabilities  and give us a call, let us see if we can be of service to you.
Multiple Industry Support
Oil-field, industrial, car washing, government, construction, and much more.
Ability to work with multiple materials
Steel, stainless, aluminum, plastic, etc.
Design & Prototyping
We are able to assist you in the designing and prototyping phases with the ability to move straight into production.
Fabrication 
12′ 1/4" NC Shear – Hydraulic with power back gauge 

12′ 200 Ton CNC Press Brake – Hydraulic with power back gauge 

50 HP Vac Filtration System 

AccuChiller Chilling System 

Scotchma DO 70/110 Hydraulic Iron Worker 

HK 4kW CNC Laser Table with dual pallet loader 

Keller Laser Suction Filtration System 

Tsunami Ultra Pure Air Filtration System 
Machining 
Cuda Automated Parts Washer 36"x48" 

Summit 3′ 8" Radial Drill Press 

Powermatic Drill Press 

Jet 36" Lather with 10" Chuck 

Bridgeport Knee Mill 40" x 9" – Digital display auto feed

Birmingham Knee Mill 48" x 9" – Digital display auto feed

•

Rigid Pipe Threader 2 3/8" O.D. max cap 

Hyd-Mech Horizontal Band Saw 
Welding 
Lincoln Cv-300 with wire feed 

Linde VI253 with Cobra-Matic wire feed 

Miller-Matic 251 

Miller-Matic 185 

Miller Syncro-Wave 350LX 

Lincoln Ideal Arc 300/300 
Material Handling 
3K Fork Lift (ClarkLift) 

6K Fork Lift (ClarkLift) 

6K Fork Lift (TaiLift) 

2K Bridge Crane 50′ x 50′ 
Hose / Rubber / Valves & Fittings 
Band-It Factory Banding System 

Digital Crimp System (Capacity 1/4" to 4") 

Full Compliment of hoses, valves and fittings. 
Plasma & Support 
Thermal Dynamics CutMaster 40 

Thermal Dynamics CutMaster 75 

Welding Positioner 
• Hydraulic Pipe Bender 2 3/8" Sch.40 Max Cap
John Brown Chemical
Car Wash and Industrial chemical specialties
John Brown chemical was the predecessor to 3B Industries. Started in 1960 by John Brown as a chemical blending company making products for the oil-field and car wash industries. The products have changed over the years but the excellence has not. Detergent, wax, degreaser, pre-soak, conditioners etc… whether you are in the market or car wash or industrial chemicals we have what you need.
Call and talk to our chemical specialist today. Bulk pricing available for both build orders as well as rent orders. Please contact us to find out more information, we would be happy to answer any questions.
Car Wash and Industrial chemical specialties.
Proprietary formulations.

Liquid and powder formulations.

Full range of cleaning products for the industrial and car wash industries.

Analytic and formulation chemist on staff.

Concentrated formulas available allowing you to mix your own chemical and save on freight.
Product examples:
Pre-Soak

Triple Foam

Cherry Foam Brush

Engine Cleaner

Tire Cleaner

Bug Soap

JB De-greaser

Wet-Water
3B Industries, Inc. would love to hear from you. Contact us today for an inquiry, or project development. We are here for  you!